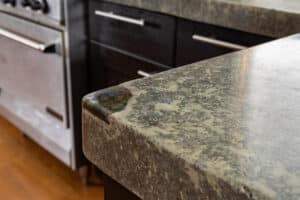 There are so many ways to make your kitchen uniquely you!  
You can add integrated features like… 
👩‍🍳 Backsplashes of varying heights to be complimented by tile or with precast wall panels
👩‍🍳 Drainboards can be a feature that offers texture and practicality to your sink work space
👩‍🍳 Drain channels are a different look with a practical design
👩‍🍳 Trivets can be artistic, found objects, metal pieces that add to the design, function and beauty of your countertop
👩‍🍳 A raised bar or waterfall end piece can also be beautiful and a feeling of substance, durability and weight that stone can bring to a kitchen 
👩‍🍳 Inlays are simply about beauty! You can place cut stone, metal objects, even shells depending on where they are located
🍴 Or you can add personal touches to the profile, seam placement and curves 
There are many features that can be built into the mold AND precast concrete allows for a variety of different styles based on how the concrete is laid in the mold –  dry cast, wet cast, color mixing, spray etc.